IT STARTED WITH A DREAM

Morvino Restaurant has been a lifelong endeavor of owners Brian & Deanna Morey. It took an incredible amount of hard work, perseverance, sacrifice, the help of family, and great friends to launch their business off the ground. Now they are finally able to invite new friends to the dinner table at Morevino. They can't wait to meet you.
" Pinch me! Are we really doing this? I hope the people love us as much as we love them!"
Brian Morey – Owner, Chef, Sommelier
Brian and Deanna Morey are originally from Goodrich and Bloomfield Hills Michigan. Their relationship flourished in college as proud Spartans. They have lived in Florida for nearly 30 years, and have two children. Their love for an equestrian lifestyle led them to a horse farm in peaceful Ocala. They are active members of Blessed Trinity Catholic as well as productive contributors to their surrounding community. Show Less

Darcy Morey is Brian's sister and was an instrumental part of our opening and dealing with items we faced upon opening. Not to mention the pandemic that hit our country. Darcy has moved on to the next chapter of her life and we love her for her work, dedication and making Morevino possible for our entire family.
Lauren Morey is the oldest of Brian and Deanna. The old soul of the family, and smart beyond her years, she has aspirations to one day work in the medical field helping and advocating for those who cannot help themselves. Although accepted into the family alma mater as a Spartan, she is choosing to stay close to her family and attend Florida State University as a Seminole beginning this summer.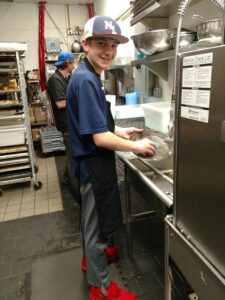 Aiden Morey is the youngest and eagerly jumps in to help wherever he can. Bright and Athletic, he's a baseball extraordinaire and master dishwasher. He's already knocking balls out of a major league sized field!
Pete and Nancy Morey reside in Goodrich Michigan. Nancy is the quintessential caring and nurturing mother who makes sure no one goes hungry or is in need. Pete's reputation precedes him, dubbed the "Kraut King," everyone knows him in eastern Michigan. He's been making sauerkraut for 55 years and loves to teach others eager to learn.
Alfred and Yolanda DiVito are the biggest hearts in the family. They never met a stranger and showed their love through food. They loved being around family and always saw the best in everyone. They taught Chef Brian how to make authentic Italian dishes and Poppies Pasta is Alfred's recipe. They are missed dearly.